Free yourself
from strict diet regimes!
You will do it thoroughly and comprehensively with us.
We are a team of dieticians and psychodietitians who will help you free yourself from strict diet plans.
We are experts

Strict dieting is akin to a sprint whereas one's life is a marathon. We will teach you to run at your own pace. We will comprehensively help you achieve your goals in health, body figure and fitness.
Over 7400 satisfied clients can attest to that.
Get to know us closer
What makes us different

COMPREHENSIVENESS
We combine taking care of health, performance, fitness and the mind thanks to an analytical and personalized approach.

COMPLEMENTARITY
Our services will help you build and develop with gradual precision, as we will collaborate to fit each block of your endeavor like pieces of a puzzle.

DATA INTERPRETATION
We know how to interpret data from metabolic analyses and apply it practically in our collaboration with you.

TECHNOLOGY AND KNOWLEDGE
We use modern testing methods and provide the most current and updated knowledge in the field of dietetics, supported by international education.

SIBO TESTING AND NUTRITIONAL THERAPY
As one of the few centers in the country, we provide the most effective testing method and therapy for SIBO. This allows us to equip you with complete dietary care to improve your quality of life.

EXPERIENCE
We have gained it by working with thousands of people under our care, including athletes in various sport fields as well as people, like you, who want to improve their quality of life. We adapt solutions to various needs.

LONG-LASTING EFFECTS
By working with us, you will achieve long-term results in taking care of your figure, health and fitness.

NUMBER OF RECOMMENDATIONS
90% of those interested in our help reach out to us on the recommendation of over 7400 satisfied clients.
How can we help you?

DIET
ETICS
We will work comprehensively with you. We build the fundamentals. We do not provide ready-made menus.
Find out more about us

DIAG
NOSTICS
We analyze data and draw conclusions from it. We provide you with complete and understandable solutions.
Find out more about us
PRO SPORT
We add 2-3% to the performance result of an elite athlete. This is often the difference between the first and third place.
Find out more about us
Working with a nutritionist

in your pocket
With the alloweat app, you do not print recipes from a pdf file or communicate with a dietitian by e-mail.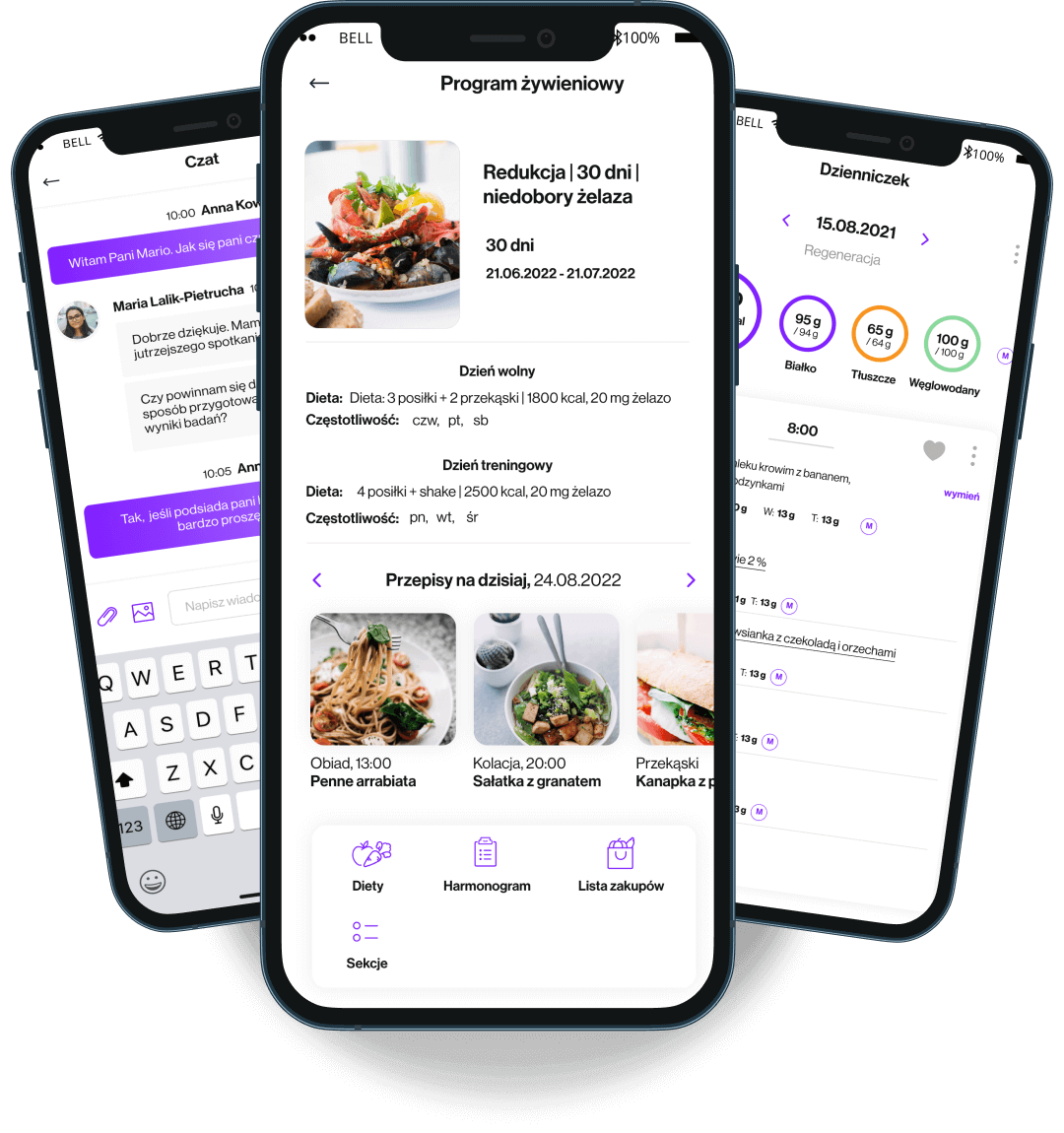 What do you get with the alloweat app?
Flexibility
Adapt your nutrition strategy to your lifestyle, daily schedule and preferences. Exchange recipes, products, leave notes for a nutritionist.
Simplicity of shopping
Better organize your shopping with interactive shopping lists. Check off the items you have in your fridge. Create shopping lists for any range of days.
Seamless Communication
Communicate with your dietitian seamlessly and effortlessly. We will adjust the way of communication to your needs and possibilities.
Constant Control
Track your progress in the mobile app and sleep easy. Your specialist watches over the process. Reach your goals faster and more efficiently.
Education and Independence
Make mistakes, but learn from them. The application will help you build self-reliance and knowledge in the field of healthy eating.
Support for Years
Use the mobile application even after completing the process with a dietician.
Contact us
We invite you for on-line consultations

or in person to one of our offices.
Opinie
Anna
"I got to know Be Compleat through the friend of mine. I first planned to support her and then just decided to take a step towards my adventure with healthy eating. And it turned out that that is was the best decision of my life. The cooperation went very smooth. Final results are astonishing. I lost 50kg and my health improved as shown in my blood work. Meetings with Kamila were always very informative, pleasant. I always got information that I needed. Thank you so much for a wonderful time and cooperation."
Jesica
"And then the moment came - on 29.12. our baby girl was born (...) I would like to thank the team from the bottom of my heart. You planted a seed of hope in my head that my menstrual problem could be solved naturally, I trusted you and in an unbelievable speed an amazing turnaround took place. I am grateful because really the profession of a dietitian is not just about "putting together a diet", it works on many levels. First of all, when it comes to understanding the patient's problem and giving them a completely different perspective on their issue. I enormously appreciate all the help I have received."
Karolina
"The program and the recipes prepared by Be Compleat were tasty and I was no longer hungry. I was no longer suffering from energy drops which previously made my work life so difficult. My weight and waistline dropped, I feel so much better and my skin improved. All this would not have been possible without Be Compleat, the support I've received, their valuable advice not only on nutrition but also on lifestyle. I sincerely thank you guys for helping me in this fight, directing me on the right paths and motivating me to take action."

Kasia
"I've never believed in diets and never trusted nutritionists...because if I put my mind to it, I always lost weight and didn't give a damn about the consequences of the approach I've been taking on my own. This time around it was so much different. I decided to give a healthy diet a chance, I wanted to change something permanently and I made an appointment with Be Compleat. At the beginning of our cooperation I weighed 95 kg. After 9 months of a healthy, varied diet, I weigh 72.8 kg and I know it's not over yet."
Pacjentka
"I recommend with all my heart! With the help of Be Compleat I managed to cope with health problems I had been struggling with for several years. Thorough analysis of blood work results, personalised diet and supplementation plan, support at every stage and motivation to change eating habits - it all worked out. A 180 degree change in my life comfort. Thank you!".