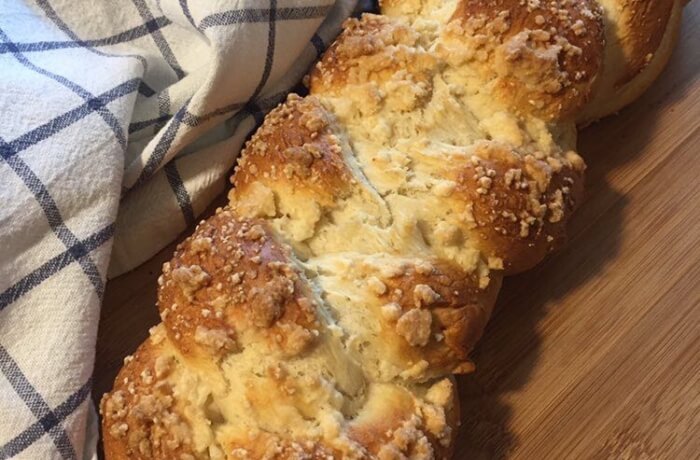 Spelled challah
Preparation:
In a small bowl, prepare the leaven, mixing yeast, a teaspoon of sugar or glucose with a little lukewarm milk. Let stand for 15 minutes to rise.
In a second bowl, mix flour with erythritol and a pinch of salt.
In a mug, mix lukewarm milk with dissolved and cooled butter, add it together with the leaven to the flour mixture.
Knead a flexible dough, which after about 5-8 minutes of kneading will nicely come off the hands. Form a ball, cover with a linen cloth and set aside for 1 hour in a warm place to rise.
Crumble can be made during this time. Mix the flour with erythritol and cold butter.
After the time expires, remove the risen dough from the bowl and divide into 3 equal parts.
Form a rolling pin from each and transfer to a baking tray lined with baking paper. Then tie the yeast braid. Set aside in a warm place again for 30 minutes.
Then spread the challah with beaten protein and sprinkle with crumble. Preheat the oven to 190 degrees and bake for about 30-35 minutes.